This full-time three-month programme will kick-start your career in high-impact research - inside or outside academia.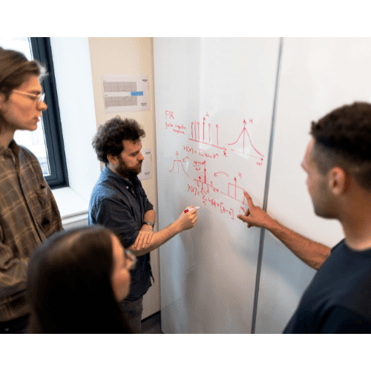 You will be a valued member of a social impact start-up

conducting agile research projects critical to their success.

You can either work with several early-stage entrepreneurial teams (Accelerate Placement), or work with a single start-up (Portfolio Placement).

You will receive wrap-around support from a community of like-minded peers, a network of experts and a library of tools and training.
Zinc Research Placements are centred on three key pillars: Impact, Career and Community.
Zinc's approach to high impact research is grounded in a user-centred, iterative, design-led approach. You will get hands-on experience embedding and producing research in creative early-stage startups. The experience may prompt you to think critically about the nature and value of research, and how it can be leveraged to create impactful products and services that shape our world. These are lasting skills that will enable you to place social impact at the heart of your future research goals, methods and practices.
At Zinc, we believe that it is the power of community and human connection that drives personal progress and growth. You will be part of a cross-disciplinary cohort of placement holders who, through hosted conversations, and structured cohort events will develop a collaborative and creative network of peers. You will also have access, through events and learning content, to the Zinc Innovation Ecosystem. This is made up of over 11,000 members, more than 300 Visiting Fellows, and wide-ranging cross-sector partnerships.
Whether you are looking to translate your research skills into a career outside of academia or interested in building the network and skills to differentiate yourself for that next grant proposal or academic job interview, the Zinc Research Placement Programme can provide a springboard for you to re-contextualise and re-imagine your future research career. You will have the mental space, and guidance through career-coaching to think about your next steps as you transition out of your PhDs and into your academic careers.
"Doing this sort of work has made me feel so much more optimistic about the career paths I can take afterwards" Portfolio Placement Holder
"Industry research is much more fast-paced than academia, and you do work on a much wider range of problems - it is really incredibly mentally stimulating" Portfolio Placement Holder
"You really get to effect change at that starting point. You wouldn't necessarily see that if you were in a larger more established research programme in a big corporation" Portfolio Placement Holder
"I had started to feel a little frustrated and demotivated in my PhD. Taking time out allowed me to reignite my passion for the discipline and remember why my research was important beyond the academy" Accelerate Placement Holder
In an Accelerate Placement you will work in-house with the Zinc R&D Team, helping to embed research principals and methods in our venture builder programme.
The Zinc venture builder programme lasts 12 months and supports approx. 70 founders to build new companies in a particular social mission.

Accelerate placements begin when the founders are around 6 months old. By this point in the process they will have formed a team and picked an opportunity area that they will go on to innovate in. They will be in the early stages of developing proof of concept, designing prototypes and generating signs of traction among their users.

You will work with the Zinc R&D team to support these founders to develop products and services built on the best scientific evidence.
You will also work hands on with the founders to conduct research activities that will support their development.
If you join as an Accelerate Placement Holder in our April 2022 cohort you will be working with companies tasked with the mission to improve the emotional and mental wellbeing of children and young people.
In a Portfolio Placement you will conduct a discrete project with one of our portfolio companies.
You will be matched with a company that fits your skills and research interests. Please specify your top two preference companies in your application.

You will work collaboratively with your placement host to design and refine your placement project.
Ranging from health topics such as care and menopause, to issues surrounding our socio-economic resilience (such as the vitality of our high street and unemployment), you can work on a vast range of projects with one of our participating portfolio companies: Eargym, Game Academy, Mobilise, More Human, Sook, Untangle, Vira Health, and Yuno

Two
Submit a short video summarising your career ambitions on workable.

Three
Shortlisted candidates will be invited to interview.
We are only able to host interns whose funding arrangements will cover the costs of their involvement in this placement (e.g. Research Council placement funding).
Places will be awarded on a rolling basis. We encourage early applications to avoid disappointment
As a Zinc PhD Placement holder you will have access to a range of resources and support to help you flourish during your placement.
* Monthly cohort events
* Weekly collaborative learning sessions
* Library of training resources
* Career mentoring
* Networking opportunities
Innovation Internships are open to any PhD student whose funding arrangements cover time spent on this placement. Please note that it is the student's responsibility to check that their registration and visa status are compatible with the requirement of the internship.
Accelerate Placements
Since we don't yet know which companies will be formed in our next venture builder programme, we are open to hearing from students with a wide range of academic disciplines and with a variety of professional or personal experience. What we do know is that, if you're hoping to join our 2022 Accelerate stage, you'll need to be interested in applying your skills and knowledge to our next mission of improving children's and young people's mental health. We also know that user engagement will be a vital aspect of the venture-builder and particularly welcome applications from researchers with experience of engaging with children and young people, even if they have not previously worked on issues pertaining to mental health specifically. Equally, we're keen to hear from people with academic or other experience in the field of mental health, even if that wasn't gained with children and young people. We are also keen to hear from students with backgrounds researching novel technologies, materials, and or digital platforms.
Portfolio Placements
You may be interested in working with one our portfolio companies who are producing products and services across diverse sectors. You can see a full list of our portfolio companies here, and some examples research projects here. If you would like to be placed with a portfolio company then you will need to have an interest in bringing your research to bear on an area relevant to one or more of our portfolio companies. We will endeavour to place you with a company that best matches your interest and expertise, however, cannot guarantee this. We are particularly keen to receive applications from individuals with experience in data science and/or advanced quantitative methods.
All Placements
Whatever your previous experience, though, we will prioritise evidence of the following skills and attributes over evidence of specialist expertise in any single area of research:
Ability to help design and deliver high-quality research: You have experience in designing and implementing research projects.

Interest in collaborative, cross-disciplinary working: You enjoy working with others, including those from different disciplinary backgrounds, and are excited by co-creation and collaboration.

Flexibility and ability to respond positively to changing circumstances: You can plan and execute research in a fast-paced, agile environment, working to tight deadlines.

Team player: You can work with your host venture in a proactive and constructive way and get behind the team mission.
Effective, positive and proactive: You are organised and hands-on, and able to use initiative to make decisions. A positive, "can-do" attitude is essential.
Zinc's venture builders have much greater diversity than is typically seen in the venture world: For example, half of our founders have been women, one-third have been people of colour, and the average age has been early 30s. We are committed to supporting individuals from diverse backgrounds to participate in our innovation internships.
Accelerate Placements
Accelerate placement holders that are able to immerse themselves in the culture and atmosphere of a start-up environment, through face-to-face work will likely have a richer internship experience. We anticipate that placement holders will be able to travel to our central London offices on at least three occasions throughout their placement for learning and development opportunities. However, outside of these learning and development events we can accommodate flexible and/or remote working practices.
Portfolio Placements
The working patterns and arrangements of your placement if assigned to a portfolio company will vary on the working arrangements of this company. If you have particular requirements please outlined these in your application and we will endeavour to take these into consideration when matching placement holders and hosts.